Wakayama
From Mie Guidebook
Wakayama (和歌山) is the capital and largest city in Wakayama Prefecture. It is on the complete opposite side of the Kii Peninsula from the portion of Wakayama that is close to southern Mie, and so is quite far away.
It is not a terribly remarkable city, but serves as the gateway to some of the more remote areas of the prefecture.
Getting There from Mie
Get yourself to Osaka via either Kintetsu or JR. There are two parallel train lines running to Wakayama City from southern Osaka.
JR Hanwa Line (阪和線)

JR runs a regular train out of Ten'noji bound for Wakayama (和歌山) Station called the Kishūji Rapid Service (紀州路快速 kishū-ji kaisoku) that will get you there in 70 minutes for ¥830. Though it takes longer and requires you to get to Ten'noji first, it is probably the better option because JR Wakayama Station is much closer to the center of town, plus it is where you can catch the train to see Tama.
Nankai Main Line (南海本線)

Nankai runs a train out of Namba bound for Wakayamashi (和歌山市) Station. Express trains will get you there in just under an hour for ¥890. The line runs right by Kansai International Airport. Though this line is the easier option for those of us coming from Mie, the Nankai Station in Wakayama isn't terribly well-located.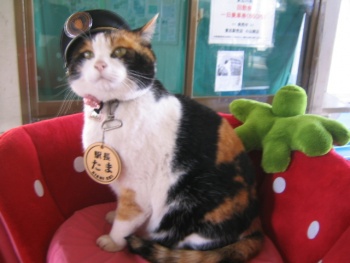 Things to See
Tama the Feline Station Master (駅長のたま Ekichō no Tama)

Arguably the most popular thing to see is Tama the cat. A local railway which runs a line out of JR Wakayama Station appointed a cat as the official station master of one of its unmanned stations. In just a few years, Tama became immensely popular and people come from all over to see him. He is so popular that they have now rebuilt the station itself to resemble a cat, and one of the trains that runs on the line is cat-themed both inside and out.
Wakayama Castle (和歌山城 wakayama jō)

There's a castle, but it's not terribly impressive. Only check it out if you've got nothing else to see.
Nearby
Mount Kōya

Beautiful Buddhist holy mountain with over 100 temples that you can stay overnight in. Geographically close to Wakayama City, but more easily accessed via Namba if using public transport.

Shirahama

Sandy beaches, onsen, and the world's best panda zoo outside China.

Osaka

Only 60-70 minutes to the north.